NEW ON 10/24/17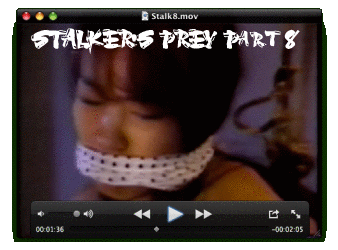 PART SEVEN: Mary fights hard in her new bondage, but finally agrees to be quiet and gets her gag loosened. However, she soon regrets her decision as he plunges a huge "toy" into her soft body
PART SIX: Humilated & used, Mary offers no fight as he pulls her into the basement of the warehouse and rebinds her with tight hemp and a fresh gag.
PART FIVE: The helpless girl has no choice but to service her captor in her mouth, choklking and sobbing the whole time. When finished, she prays he will release but instead she is stripped naked and retied painfully.
PART FOUR: Tiring of his molesting, the man decides that it is now his turn and he removes Mary's gag. To the girl's horror, she now realizes what he is about to force her to do!
PART THREE: Gagged, Mary has to endure his hands exploring her nylon-clad body, poking & prodding painfully as she writhes
in the ropes
PART TWO: Mary struggles hard in the ropes as the creep pulls down her panties and explores her soft body. Quickly, he cuts off her cries - Mary's last form of defense - with a tight gag.
PART ONE: The man sees his chance and boldy grabs Mary on a public street, dragging her so she can't cry out. Once he has her in an abandoned building, he binds & gags the helpless girl.
---