NEW FROM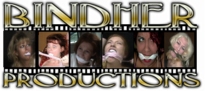 FROM

Safe at home? Not these ladies! Their homes are invaded by criminals who make them prisoners in their own houses!

Starring: TOMIKO, ANJELICA VAMP, AMBER RAE,
C.J. SULLIVAN & *introducing*ALISHA MARIE

NEW

SEE A FREE TRAILER HERE

(In Real Media Foremat - Go Here For A Free Player)
When TOMIKO's family goes away for the weekend, she assumes she is in for peace abd quiet until an escaped con invades her home. For days, he keeps the woman his prisoner and each time she tries to escaoe, he just binds & gags her tighter!

| | | |
| --- | --- | --- |
| | | |
ANJELICA has plans to meet friends for shopping, until a robber makes sure she stays very quiet while he takes her jewels & cash.

| | | |
| --- | --- | --- |
| | | |
AMBER actually opens the door to this creep - who she "met" on the internet.
When she discovers what he REALLY wants, it is too late!

| | | |
| --- | --- | --- |
| | | |
C.J. wakes up late om a Sunday morning, to find a man waiting in her opartment.
Bound and hooded, she is forced to watch him steal her posessions.
ALISHA plays a deadly game of "cat and mouse" with the man holding her captive in her home.
By theend, she finds that all her efforts were useless.
EXCITING STORIES OF HOME INVASIONS
TOLD BY THE LEADER IN DAMSEL IN DISTRESS!!
DANGER AT MY DOOR is an 80+ minute DIGITAL VIDEO
in full color & sound. It features
ON SCREEN ABDUCTION. NUDITY, HEAVY STRUGGLING,
PANTY HOSE HOODS, ON SCREEN HEAVY GAGGING & TYING
You must be 18 years of age to order.
DANGER AT MY DOOR!
is JUST $34.95 which includes U.S. PRIORITY MAIL SHIPPING
All Major Credit Cards (as well as Money Orders & Checks) accepted
ORDERING OUT OF THE U.S.?
Please Add $5.00 for International Air Mail Rates