ORDER THIS DVD FOR JUST $39.95 AND GET A SECOND, ALL NEW DVD FREE!

GOOD GIRLS GAGGED!! (see below)

| | |
| --- | --- |
| | |
A dedicated officer , a corrupt commander and a shadowy figure waiting in hiding. Lt. Allison Ross has just signed on for a tour of military misery as she is....
BOUND BY HONOR
Starring
TINA KRAUSE


DIRECTORS CUT WITH NEW MATERIAL ADDED!

| | |
| --- | --- |
| Lt. Ali Ross (TINA KRAUSE) is just a test flight away from being awarded her own command. However, a bigoted Colonel puts a crimp in Allison's career by employing a thug to be sure that that the dark-haired beauty misses her chance at promotion. First he grabs her in uniform, stuffing her mouth with a dirty rag and plastering here soft face with strip after strip of cruel tape. | Step by step, he ties each part of the girl's lithe form as she struggles frantically. Soon, the proud uniform is peeled away revealing the young officer's female assets. Trained for combat, Allison tugs, kicks and writhes against Hobbs and his biting ropes. Leaving her to her misery, the criminal gives the girl false hope that her torment is over. Those hopes are quickly dashed when he returns to Ali's home just as she gets a second chance to redeem herself in the eyes of the service. |
| | |
| --- | --- |
| | This time, Hobbs makes a day of it, putting Allison through several positions of bondage and just as many choking gags. She struggles against the coils confining her lovely form, she sobs into a mouth full of silencing rubber and watches the military career she loved so much fade away. |
Trapped - tied, gagged & alone with a creep!
TINA KRAUSE is
BOUND BY HONOR
*PLUS* A SECOND
FREE
DVD
GOOD GIRLS GAGGED!
Three stories each with an interwoven theme - the pretty, victims are all silenced over and over with cruel, mouth-filling, choking gags! ESTELLE is a parole officer abducted by one of her clients and her criminal boyfriend •• SKYTHE spends the holiday alone in the dorm, unaware that soon a thief will keep her bound and gagged over and over for the weekend •• KORDELIA is a housewife who is kept carptive by an intruder who makes sure she can't call out to neighbors.
*PLUS* DVD EXTRAS:
BINDHER BONUS BONDAGE • TRAILERS • and more!
TWO DVDS
OVER 3 HOURS OF THE BEST DAMSEL-IN-DISTRESS
ACTION EVER PRODUCED!!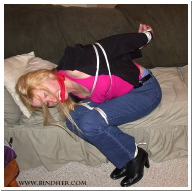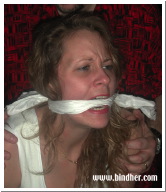 ORDER OUR FEATURED DVD OFFER
BOUND BY HONOR plus GOOD GIRLS GAGGED!
by clicking below
you then go to our 100% SECURE SERVER
Get your video F A S T or
If you prefer to order by FAX GO HERE for you easy-to-use-form
If you prefer to order by MAIL GO HERE for you easy-to-use-form
BOUND BY HONOR & GOOD GIRLS GAGGED!
are in full color & sound. It features
ON SCREEN ABDUCTION. NUDITY, HEAVY CHLORFORMING,
HEAVY STRUGGLING,
ON SCREEN HEAVY GAGGING & TYING
You must be 18 years of age to order.
JUST $39.95 which includes U.S. PRIORITY MAIL SHIPPING
All Major Credit Cards (as well as Money Orders & Checks) accepted
ORDERING OUT OF THE U.S.?
Please Add $5.00 for International Air Mail Rates